Graduate Students
Duyen Trang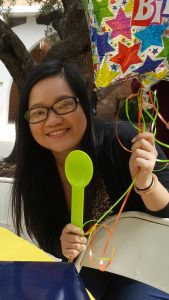 Duyen Trang is a first-year student in the Developmental Psychology program at UC Riverside. She completed her BA and MA from San Diego State University (SDSU). At SDSU, she studied sociocultural variables aiming to increase cultural competence in youth mental health services and reduce the unmet mental health need in ethnic minority families.
Duyen's current interests focus on the salience of context as well as direct and interactive effects of different layers of context on children's socioemotional and academic competence over time. She is also interested in the link between family relationships and parent-child (in)congruent reports of child adjustment outcomes. In her free time, Duyen enjoys painting, spending time with her family and friends, and napping.
---
Bri Coulombe
Bri Coulombe is a second year student in the Developmental Psychology program at UC Riverside. Before joining the Adversity and Adaptation lab, Bri graduated from Gonzaga University in Spokane, Washington. There, much of her time was dedicated to serving the community through the many volunteer organizations offered by GU.
Bri's research interests are informed by her philanthropic work, and aims to understand how children learn to care about those around them. She is also interested in discovering positive outcomes for kids facing adversity, and understanding how despite stressful life events, strength and resilience manifest.
---
Linnea Linde
Linnea Linde is a second year student in the Developmental Psychology Program at UC Riverside. Linnea holds a BA from Mills College and an MSW from the University of Maryland, Baltimore. As a Graduate Research Assistant at the University of Maryland, Linnea developed an interest in developmental and family studies and worked on a variety of projects exploring trauma, stress, and resilience. She brings to the AD Lab several years' experience as a psychotherapist specializing in child and family treatment with at-risk populations.
Linnea's research interests include the study of parent-child interaction, attachment relationships, and family risk and protective factors. She is interested, broadly, in examining developmental psychopathology within a relational context and, specifically, in the intergenerational transmission and prevention of child maltreatment. Outside of the lab, Linnea enjoys cooking, hiking, and spending time with her seven year old son.
---
Kristen Rudd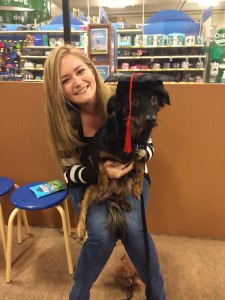 Kristen Rudd is a fourth year graduate student in the Developmental Psychology Program at UC Riverside. Before choosing to join the Adversity and Adaptation lab, Kristen graduated with honors from Arizona State University with a BA in Psychology. During her time at ASU, she worked as a research assistant on multiple studies including the Adolescent Stress and Emotion and the Cognition and Physiology projects investigating the role of stress in health outcomes. These labs utilized a biopsychosocial methodology that helped emphasize the importance of examining biological systems within a developmentally focused psychological framework.
Kristen's interests focus on how different life experiences, such as support or stress, influence children's physiology. Because the way our bodies function is very important for health and well-being, she is also interested in exploring both emotional and physical health outcomes. The goal of her research is to find out how we can protect positive development and help to bring about better outcomes when children encounter stress or adversity. In her free time, Kristen enjoys hiking with her dog Benny, swimming, snowboarding and spending time with friends and family.